Book Now...
Date: April 25-27, 2023 (SOLD OUT)
Book Now...
Date: April 28-30, 2023 (SOLD OUT)
Book Now...
Date: June 16-18, 2023. (SOLD OUT)
Book Now...
Date: June 19-21, 2023. (SOLD OUT)
Locations: Lake Powell, Glenn Canyon National Recreation Area
Cost: Full: $900.00, Deposit: $300.00
The deposit of $300 is required at registration to reserve your spot in the workshop. The remaining balance is due 3 days prior to the workshop start date.
Due to the complex nature of our multi-day expeditions, our cancellation policy is 90 days on all domestic and international expeditions. Cancellations made before the 90 days will receive a full refund of their deposit. Cancellations made within 90 days of departure will be refunded half the amount of the deposit. We strongly recommend travel insurance in order to protect you from unforeseen travel interruptions that prevent you from joining us.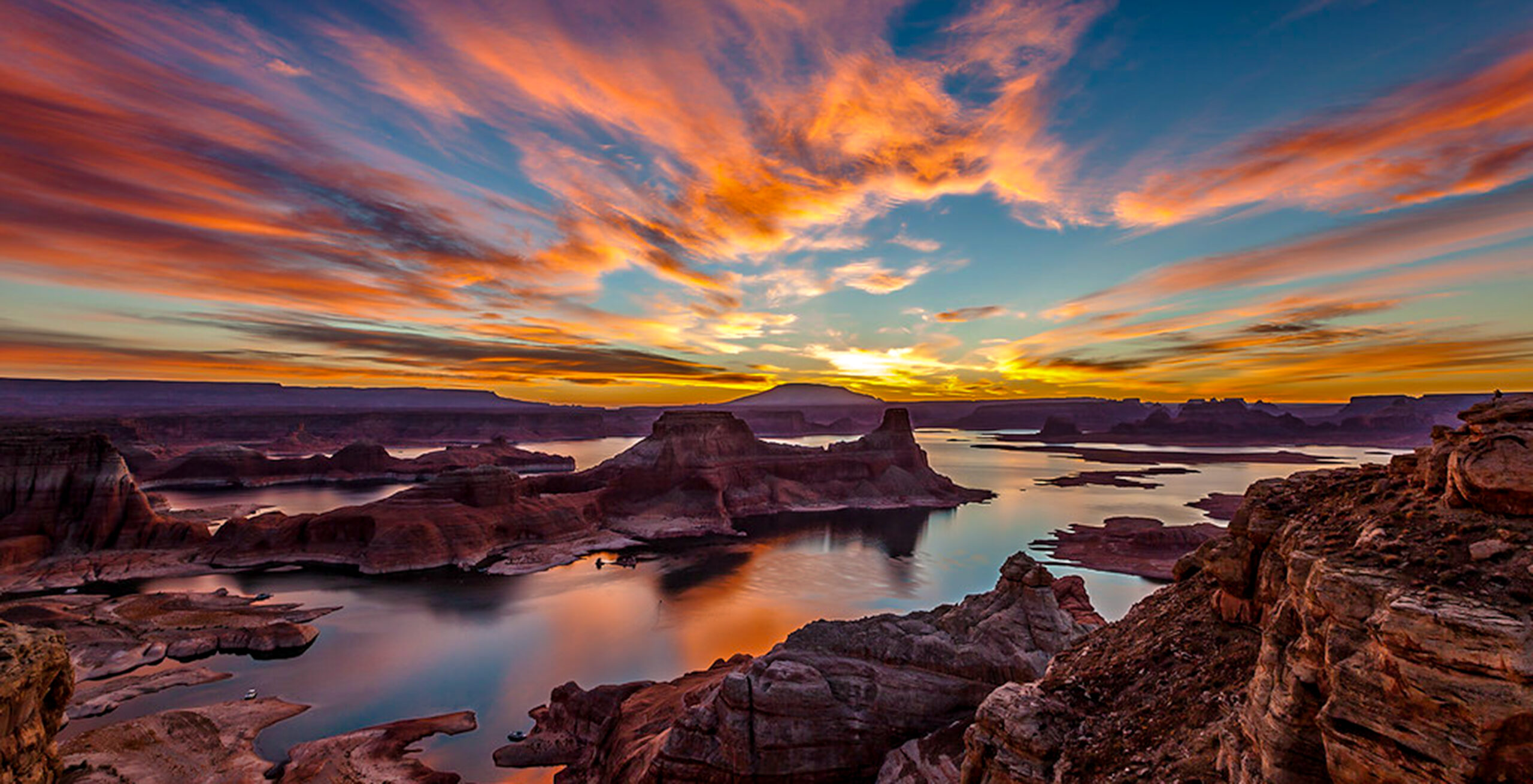 Lake Powell is one of the most iconic locations in the Southwestern United States and there is no better way to see it than by boat.
Getting the opportunity to explore the beauty of Lake Powell and Glen Canyon National Recreation Area is every landscape photographer's dream. With its dramatic red sandstone spires and towering cliffs rising high above the waters, this workshop offers endless opportunities to capture the beauty of this area. With a shoreline longer than the whole western coast of the continental United States, one could spend a lifetime trying to see all there is to see on this beautiful lake. Let ISO Photography Training and Lake Powell Guide Services help you make memories that will last a lifetime.
This is your opportunity to explore, experience and photograph one of the most unique landscapes in the world in an intimate setting.  Limited to six participants, your guide will ensure you get an unforgettable experience.  This workshop is based out of Page, Arizona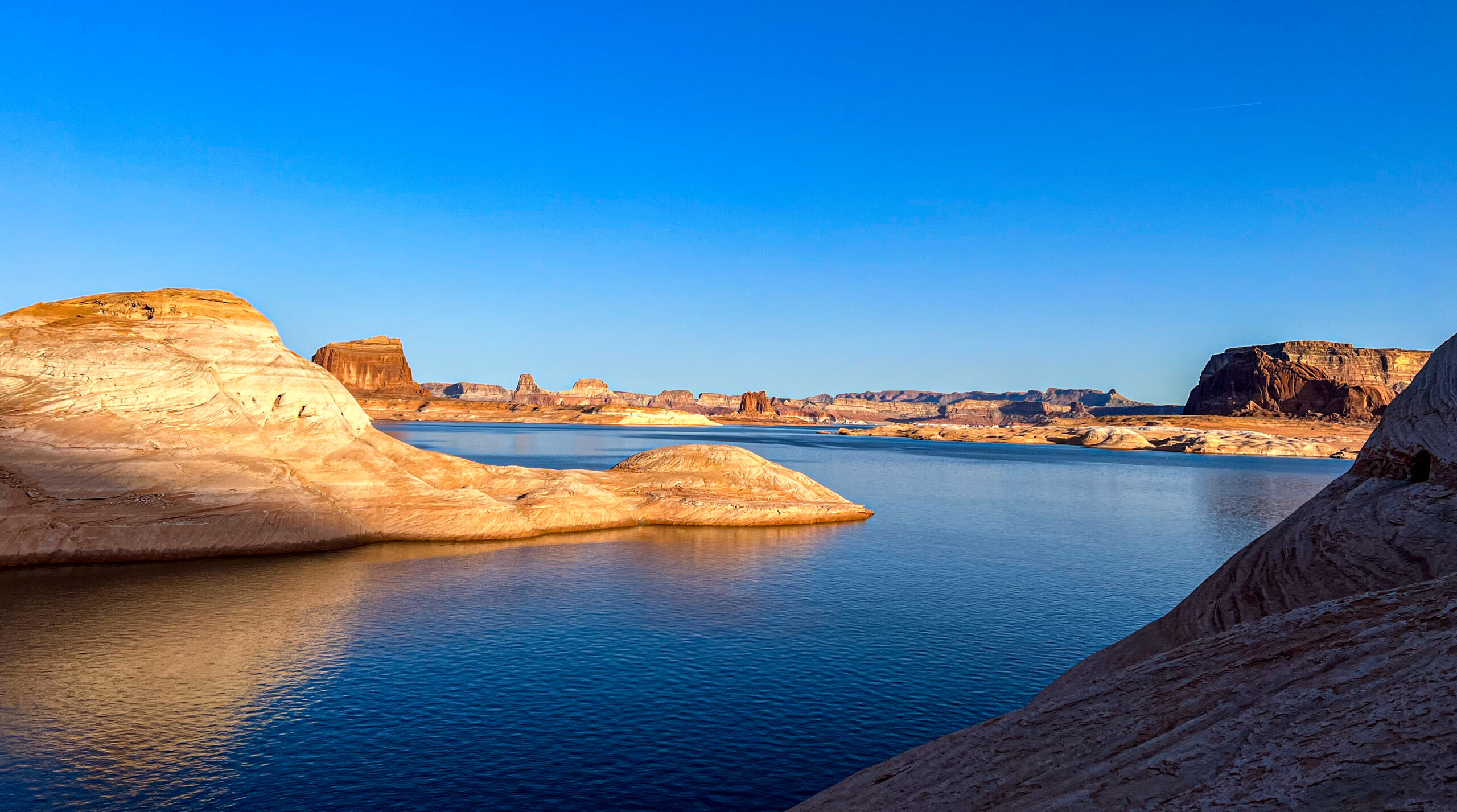 Itinerary:
The itinerary times and locations are flexible to account for the time of year, current lake levels, weather, and group interest.  The itinerary below is an example of what you could expect.
Day 1:
Meet at hotel at 6:30 p.m. for a meet and greet to get to know each other and discuss the itinerary.
Day 2:
Meet at Wahweap Marina for a 5:30 a.m. departure. We will leave the marina at first light and make our way up lake. Weather permitting, we will have the opportunity to see many beautiful sights including, Navajo Canyon, Face Canyon, Labyrinth Canyon, and Padre Bay with Cookie Jar. We will plan on being back to the marina by 2:00 p.m. Plan on being on the water from 5:30 a.m. to around 2:00 p.m.  Snacks and water will be provided, as well as cooler space for any food you wish to bring along.
Between 2:00 p.m. and 6:30 p.m. is your time to rest and recharge before meeting up for the sunrise shoot.
We will meet back up at 6:30 p.m. and make our way out to Horseshoe Bend for sunset. There will be enough time to explore and find your ideal sunset shooting location.
Day 3:
We will depart at 6:30 a.m. and take an off road 4x4 vehicle out to one of our favorite locations in the area, White Pocket. This location has countless unique rock formations and patterns for you to spend the day exploring and photographing. There will be a canopy for shade with seating and cold drinks and snacks available at the parking area for you to rest at during any point in the day.  We will depart White Pocket around noon which will get us back to Page around 2 p.m.
Between 2:00 p.m. and 5:00 p.m. is your time to rest and recharge before our evening photo shoot.
We will meet back up at 5:00 p.m. and make our way to an area called the Toadstools. This area contains many rock formations called hoodoos. We will hike a half mile to the hoodoos for our sunset shoot. The option to stay late for star photography may be available.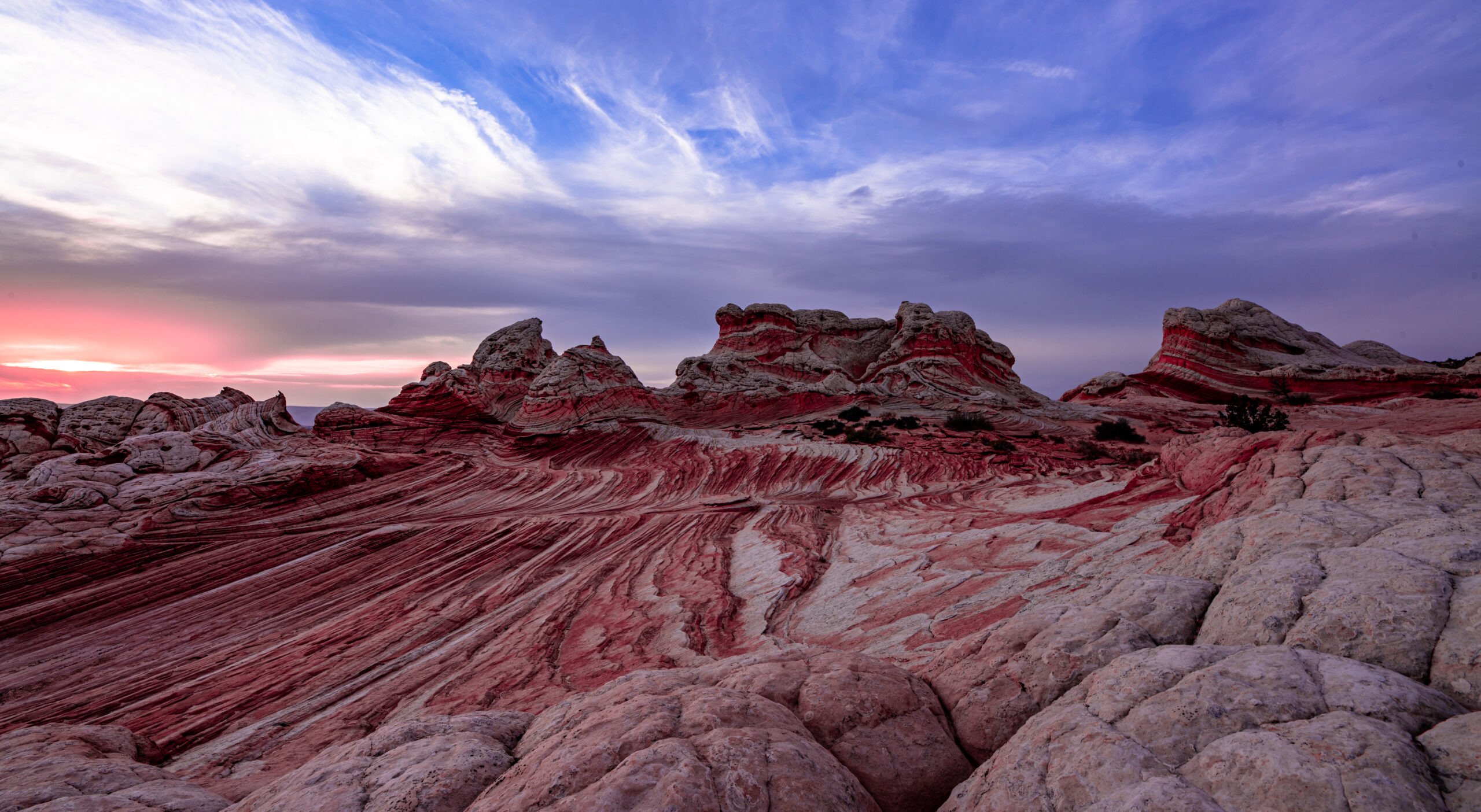 Trip Details
Physical Requirements: 
All participants must be in good physical condition and have the ability to hike a maximum of 2-5 miles per day on steep mountain trails with a daypack. Not all days will require extensive hiking, however it is important to be physically prepared for the hikes that are strenuous.
Group Size:
Group size is limited to 6 participants per workshop to ensure plenty of time for everyone to benefit from one-on-one instruction with the instructor throughout the workshop.
Accommodations:
Lodging is not included. Suggested lodging is the Country Inn & Suites by Radisson in Page, AZ.
880 Haul Road, Page AZ 86040
+1-928-484-1117
Meals:
Meals are not included during the trip dates. We offer snacks and cold water during the day. There will be a cooler available for your use. We will take a break midday every day for lunch and rest.
Weather:
Expect warm pleasant days and chilly nights. The weather is generally very dry and stable in the area however, it can change at a moment's notice. Remember, some of the best photographs are made before, during and immediately after a storm cycle. There is no such thing as bad weather just poor layering and gear choices so please plan accordingly. For more information on what to bring please refer to the list below.
Price Includes:
Multiple iconic locations around Glenn Canyon Recreation Area.
Professional photography instruction before and during shoots.
In camera review and camera settings adjustment when necessary.
Snacks and water.
Ground transportation during the workshop.
Price Does Not Include:
Airfare
Accommodation during the trip dates.
Participant meals and alcoholic beverages.
Transportation to and from Page, Arizona.
Guide and staff gratuities
Travel Details:
Departure city is Page, Arizona.
Contour Airlines has inexpensive flights between Page and Phoenix, AZ, as well as Las Vegas, NV.  Alternatively, driving from either Phoenix or Las Vegas will take approximately 4.5 hours.
Recommended Gear:
Personal:
Hiking boots, socks, and long pants
Rain jacket, warm layers for cold nights and pre-sunrise shoots
Personal toiletries
Headlamp
Sunscreen, sunglasses, and sun hat
Hydration bladder or water bottle
Photography:
Tripod
Digital SLR or Mirrorless Camera
Wide Angle lens, 10-22 mm
Mid-range lens, 24-100 mm
Telephoto can be useful in different situations but not required
Filters: ND, Polarizer, Graduated ND
Extra batteries, memory cards, and cleaning supplies
Remote Shutter Release
Safety, Confidence, Being Prepared:
ISO Photography Training is a professional organization dedicated to safe, quality, positive experiences for our students, and responsible stewardship for the breathtaking locations and beautiful wildlife we enjoy at every workshop. We work with the United States Department of Interior, the National Park Service, and the US Forestry Service to obtain all the proper permits to operate safely, conscientiously, and legally. We carry much more than the required minimum of insurance, and our skilled instructors are certified in CPR, as well as in the Leave No Trace Outdoor Ethics.
Book Now...
Date: April 25-27, 2023 (SOLD OUT)
Book Now...
Date: April 28-30, 2023 (SOLD OUT)